7 Plus Size Athlete Fears Debunked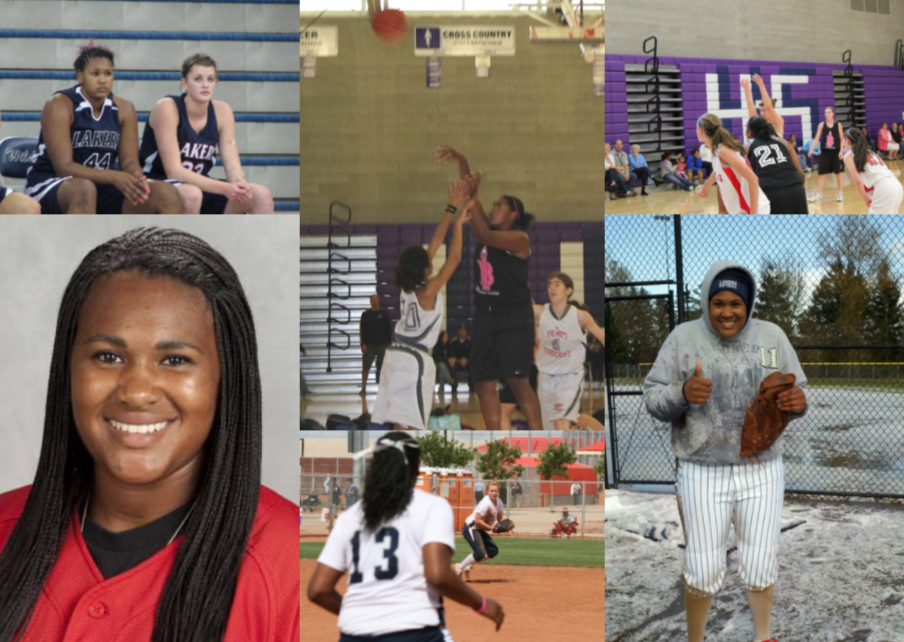 "Somewhere behind the athlete you've become and the hours of practice... is a little girl who fell in love with the game... play for her."
In 1999, my athletic career began with Little League baseball in Southern California! The competitive social butterfly in me was excited to make new friends & have an excuse to keep moving outside of P.E. I fell in love with the personal improvement, team bonding & constant challenges but when puberty came and went, I wasn't only TALL , now I was gettin curvy! By the time I was in high school, I was playing basketball & softball competitively year round but out of no where, I wasn't "just an athlete" like my teammates & I noticed opponents, coaches, & even parents expecting less of me as a plus size athlete. They may not have realized it but their words, stares & reactions were insulting as an athlete & just cruel as a kid.
This post is a collaboration with the wonderful Yasmine Saibou of Darker Berrie! As a fellow plus size fitness & fashion enthusiast, Yasmine openly shares her health journey & empowers women to speak their truth, 110% unfiltered & fashionably! Make sure you read her post on Plus Size Workout Fears & follow her on Instagram for frequent fashion & travel inspo! Continue reading as I debunk 7 Plus Size Athlete Fears I encountered during my career & the lessons the taught me.
FEAR #1: EVERYONE WILL STARE AT ME ON & OFF THE FIELD
TRUTH: People are nosey and will stare & question anything that is different from themselves! Hold your head high, remember what you're capable of & go get that W!
On 95% of my teams I was the biggest girl, height & build, and often felt like people stared at me because I was "the big girl in the uniform." When I was younger it was discouraging & made me self-conscious because in my head I thought people were waiting to see me fail. But eventually, I accepted the stares with pride, because I knew I had the ability and opportunity to prove curvy girls can be athletic. On a playing field or in a fitness class, you just gotta rock it, Yasmine & I both agree on that.
FEAR #2: I CAN ONLY PLAY CERTAIN POSITIONS
TRUTH: You can play any position you're passionate about if you're willing to put in the time & work!
In some sports, build AND power are gold, but that doesn't mean you're required to fill the position "just because!" During my basketball career I played with multiple teams at different levels & was a proud post player who loved defense until a team out of Sacramento, CA completely changed the game for me! My new team played fast, physical, intuitive basketball with a coach who considered his entire team an asset & believed all positions should be able to be filled by any player. During practice, we rarely split up by position and were all held to the same standard for ball handling, rebounding, & offensive plays. In games, post players could bring the ball up the court, point guards were expected to rebound, & guards should never fade away from a drive to the key! My confidence in myself and my game went through the roof, especially after recovering from a broken ankle, and for the first time ever I considered myself a "basketball player," not just a post because I was taught that post players can & should dribble!
I tried to take the style of game with me to every team after that season, but always had to conform back to the limited "expectations of a post player." There were times even parents from the stands would yell at me to pass the ball to a point guard to dribble up the court instead of taking it myself or to remain in the key & not pop out for jump shot opportunities. Their assumption of what they thought I could do was a swift smack in my face of what I knew I could do. My Sac coach taught me hard work > ego & I carried that with me, even when my spirit was broken because I wasn't given the opportunity to perform to my potential. Coaches & teammates are there to guide you, but your head & heart are the voice you live with forever. Choose wisely.
FEAR #3: I'LL ALWAYS BE SLOW AND UNCOORDINATED
TRUTH: Everyone is a klutz sometimes! Speed and coordination come from practice - walk before you run right? Baby steps.
Just because I have more to work with people expect me to be heavy on my feet and ungraceful, but that's FAR from correct. I had several coaches remind me "you can teach speed and skill, but you can't teach size." That stuck with me because that meant any time I was at practice, my teammates were running the same distance, completing the same reps, and practicing for the same amount of time! It put into perspective that they were also improving daily, along with me & even though I was bigger than my teammates, we were on the same journey to become better athletes.
FEAR #4: I WON'T BE A BETTER ATHLETE IF I DON'T LOSE WEIGHT
TRUTH: Fundamentals, sportsmanship, competitiveness, and being coachable will improve your game too! Lost pounds may make you lighter on your feet, but that doesn't make you a great athlete.
In my experience, some coaches assume weight loss with automatically make an athlete better on their respective playing field. I understand, scientifically, less mass has more speed, but weight loss doesn't automatically make an athlete better over technique, sleep, nutrition, mental health & teammate relationships. I experienced a rough patch of body love during a softball season where I was convinced losing weight would would give me a better shot at seeing the field based on previous conversations with my coach about my weight. I got lost in the numbers going down on the scale & up on the weight rack that I disregarded my mental health & sometimes empty stomach "for the love of the game." I was able to break my bad habits and came to terms that I was already an amazing athlete and did it with the body I already had! Your body is a tool and it should be used as such - take care of it, train it & USE IT!
FEAR #5: I WON'T FIND OTHER CURVY ATHLETES
TRUTH: They're out there, they might just be your opponent first! Put on a smile after the game & say "Hi!"
I got used to being the only tall & curvy girl on my teams that my blinders would come on & I thought I was alone in the world, like some solo curvy athletic unicorn frolicking in a field. But there were always more curvy badass babes around me, normally playing my position, but it took forever to find and befriend them. I even searched for them on TV and found them in my athletic role models like Crystal Bustos (USA Softball) & Lisa Leslie (WNBA), and got a ton of inspiration from any post player from UCONN Womens' Basketball team! I watched these women move through their sports with grace and determination. Today, I am in awe of how many amazing women I see owning their sport AND bodies!
FEAR #6: IS THAT MUSCLE? OR IS IT FAT? OR BOTH?
TRUTH: It's probably both but it's beautiful and makes you a badass in the game! More fluff to defend, more muscle to react! Best of both worlds.
When you're naturally blessed & competitively motivated, the mirror can be confusing! It's like you can feel your strong muscles but you still see some fluff! My mom always reminded me that muscle has less mass than fat, but they're both there and there's nothing wrong with that. Having curves, doesn't mean you can't have muscles or that they're not there! I know it's frustrating feeling like you have to consistently prove your strength or athletic ability based on your size, but it's also fun to be underestimated. They asked for it ;) The ideal athletic build is the one you create!
FEAR #7: I CAN'T FIND EQUIPMENT THAT FITS
TRUTH: It's finally starting to make it's way to the racks, but don't put too much thought into it. We're just gonna get sweat, blood & tears on it anyways.
Finding QUALITY plus size sports equipment or activewear can be hard! Yasmine & I both know this to be true. I never cared what my practice gear looked like because it was meant to get dirty, ripped & faded! So I typically bought shorts from Wal-Mart, grabbed a tourney tee & called it a day. The start of a new season, however, was bittersweet because I needed fresh game ready equipment that would be durable & fit! Softball Cleats. Basketball shoes. Sports bras. Knee pads. Ankle braces. Sliding shorts. Whatever it was I was probably going to the Mens' section since the athletic world has more appreciation for husky male athletes than curvy female athletes. I still struggle finding supportive sports bras I can run in, T-shirt's that fit my broad shoulders, & shoes that fit comfortably no matter the day. But I've learned that QUALITY GEAR DOES EXIST. Keep your eyes open & you may find something for next season!
At the end of the day, I am an athlete and no one can take my passion away or erase the memories I made during competition. I give credit to my athletic career, coaches & teammates for molding me into who I am today. Don't forget why your game is your second heartbeat & that you're the only one who can fuel its fire. The hard times will come, but the victories will always outshine them & remind you how you got here in the first place. Play on playas ;) - Verita ♡
TL;DR;SL (Too Long; Didn't Read; Saved for Later)
Fear #1: People Will Stare At Me
Fear #2: I Can Only Play Certain Positions
Fear #3: I'll Always Be Slow and Uncoordinated
Fear #4: Losing Weight Will Make Me A Better Athlete
Fear #5: There Won't Be Other Curvy Athletes
Fear #6: Is is Muscles? Or Fat? Or Both?
Fear #7: I Won't Find Any Equipment That Fits